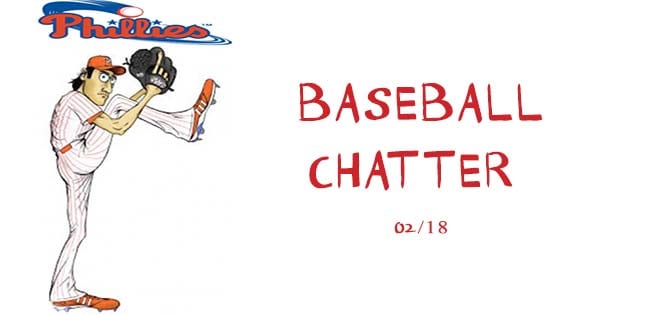 The Diamondbacks were pitching just fine before the humidor as both the Diamondbacks rotation and their bullpen ranked in the top five in ERA last season. The rotation's 3.61 ERA was the lowest in club history. Zack Greinke and Robbie Ray both received Cy Young consideration, and Archie Bradley tied for the highest WAR of any reliever in baseball. The Diamondbacks were extremely efficient at keeping runners off the bases. They are installing a humidor at Chase Field for 2018, which seems odd to me since they already have a retractable roof.
I definitely think there's advantages to it, but I don't want to buy too much into it. You've got to throw the ball. But I do think you will see guys have a lot more command and be able to control pitches a lot better with that little extra grip you get.Archie Bradley on Humidor
With no fewer than 27 home runs in any of his past four seasons, Todd Frazier has hit at least 27 home runs in each of the last two seasons and a total of 169 home runs over the past six years With Michael Conforto injured to start the season, the Mets are in need of a hitter at the top of the order who is capable of getting on base. Frazier earned a career-best .344 on-base percentage in 2017 thanks to a 14.4 percent walk rate. Expect him to hit near the top until Conforto returns. Marte turned up in the clubhouse at Pirate City with a ripped physique. Hurdle believes there is untapped power in Marte's bat — he's gone deep just 65 times in 676 games. "Starling will hit in a very opportunistic (spot) in our lineup," Hurdle said, without divulging details. Over the 810 games since 2012, 38 different pitchers have made starts for the Reds, including 16 in 2017. Manager Mike Matheny says Dexter Fowler will probably begin the season as the Cardinals' leadoff hitter. Ryon Healy had a bone spur removed from his hand, and out 4-6 weeks underwent a procedure.
So Eric Hosmer will earn average salary of $21 million a year for first five years of deal before opt out; $13 million a year last 3 years.#Padres

— Bob Nightengale (@BNightengale) February 18, 2018